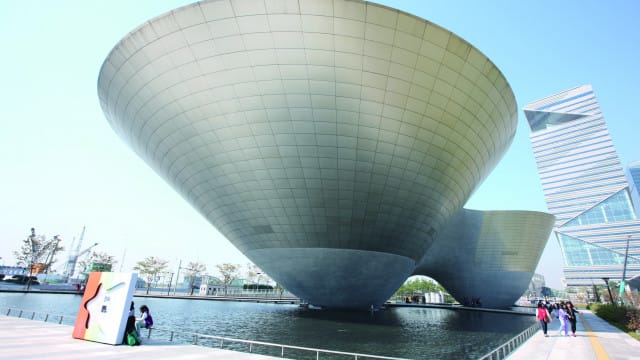 Korea's Unique Venues: Modern and cutting edge
This content piece is brought to you in partnership with Korea MICE.
A short series celebrating South Korea as a pandemic-safe destination for global business and conventions. Here are two venues that exemplify Korea's technological expertise…
Modern: cutting-edge trends
Contemporary Korean culture is bursting with character, much like the venues in this category. From an art complex that reimagines the possibilities of an old cigarette factory to a performance hall with avant-garde influences, these venues impress with their originality and inspire new ideas for your business.
Daegu Art Factory in Daegu City
Like the Orsay Museum in Paris, Daegu Art Factory came about as the result of urban renewal when the warehouse of a cigarette factory built in 1949 became an an art space. The old exterior red-brick walls remain but the interior now features a wide lobby, experimental installation art, and large works that reach to the fifth floor.
The complete effect delivers a unique spatial experience when visitors step inside. It includes the 120-seat Suchang Hall for performances, the community room with a pleasant outdoor view, small meeting and seminar rooms and a second-floor book cafe with a sophisticated ambience.
While in the neighborhood, visit Suchang Youth Mansion next door, which was once the factory dormitory, and the Daegu Modern Culture Alleys, a 1.2km stretch of architecture and culture from the first half of the 20th century.
Tri-Bowl in Songdo, Incheon City
Tri-Bowl, a portmanteau of triple and bowl, is a cultural complex as unique as its name. At night, the venue looks like a UFO with LED lights studded between the aluminum panels on the exterior walls and reflected on a fountain pond.
The 300-seat performance hall has no division between the stage and the audience seats, and the exhibition hall can be creatively rearranged with movable walls and screens. Guided tours offer a unique experience of this unusual structure. The venue is located within the Songdo International Business District and near Songdo Central Park. Accessible from Central Park Station on Incheon Subway Line 1 and 30.7km from Incheon International Airport.
For further information, please contact:
Anne Ridyard, Appointed MICE representative Korea MICE within Korea Tourism Organisation
KoreaMice@moulden-marketing.co.uk
Website www.koreaconvention.org