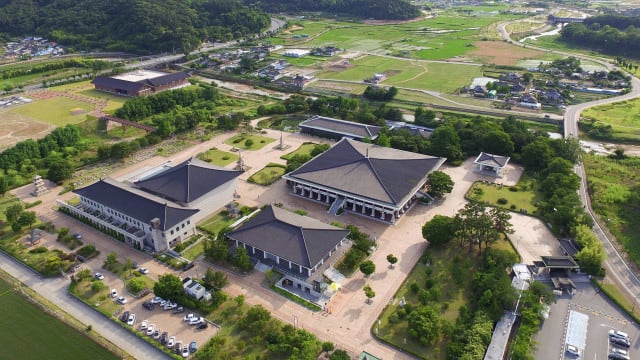 Korea's Unique Venues: Heritage and nature
This content piece is brought to you in partnership with Korea MICE.
The final feature in our short series celebrating South Korea as a pandemic-safe destination for global business and conventions features a cutting-edge venue steeped in Korean culture – and the calming respite of the natural world…
Traditional heritage: origins of Korean culture
Korea's long and rich history has produced a cultural heritage that continues to inspire. The venue in this category is situated in places where you can witness the origins of Korea's contemporary culture, and our state-of-the-art IT industry.
Gyeongju National Museum in Gyeongju, Gyeongsangbuk-do Province
Gyeongju was the capital of the Silla Kingdom (57 BC–935 AD), the first dynasty to unify the Korean peninsula. The entire city is a veritable open-air museum and the Gyeongju National Museum is a good place to start exploring.
The artifacts exhibited at the Silla History Gallery, Wolji Gallery and Silla Art Gallery are exquisite works of art that visitors new to Korean history can still appreciate. The museum's outdoor space features some 1,100 objects that originally came from historic temples and palace sites. They help recreate the ambience of ancient Gyeongju in a space that can be used for special outdoor events.
Other MICE facilities include a 250-seat theater-type auditorium; Sumukdang Hall, which looks down on a picturesque pond; and numerous seminar rooms. 13.8km from Singyeongju Station on the KTX line.
Nature: respite and serenity
Much of Korea's unique national sentiment and shared ethos comes from our natural environment. The landscape changes with the seasons, each season bringing out a distinct emotional response. This unique venue, nestled within its natural surroundings, offers visitors a place to rest, relax, and revive both mind and body.
Nodeulseom in Seoul
Hangang River cuts across Seoul from east to west, creating beautiful natural scenery within a large cosmopolitan city. Nodeulseom, one of the alluring islets on the river, is a special place. It is connected to both sides of the river by a footbridge that runs parallel to the Hangangdaegyo Bridge.
The west side of the islet is home to the performance venue Nodeul Live House and Music Lounge Ryu as well as a book cafe, natural grounds, and other exclusive sites for memorable parties and receptions.
The islet has superb views of the river and city. The multipurpose hall and seminar rooms on the east side join a natural habitat of a local species that create a feeling of being in a quiet forest. People often unknowingly stop to admire the view here, making it a unique backdrop for business events.

For further information, please contact:
Anne Ridyard, Appointed MICE representative Korea MICE within Korea Tourism Organisation
KoreaMice@moulden-marketing.co.uk
Website www.koreaconvention.org