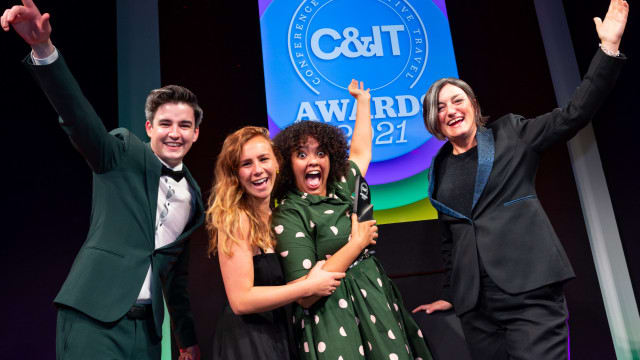 C&IT Awards 2021: The Winners
This year's C&IT Awards took place at the recently-opened hotel The Londoner, right in the heart of Leicester Square on Friday 17th September.

It was a night to remember for all those that attended. The energy in the room was electric, with many in attendance celebrating the industry's first in-person awards celebration of this size. And the excitement was further enhanced by the incredible immersive entertainment provided by Black Rabbit Projects, and the awards' host, comedian Zoe Lyons.

Here's a list of all the winners from the night:


INDUSTRY SECTOR CATEGORIES

EVENT

AGENCY

CLIENT

Automotive Event of the Year

Bentley Toy Box

Goose Live Events

Bentley Motors

Finance & Professional Services Event of the Year

Virtual Regional Leadership Conference

Brands At Work

Prudential Corporation Asia

Technology & Telecoms Event of the Year

Dell Technologies EMEA Forum 2020

Wave MC

Dell Technologies

Pharma & Healthcare Event of the Year

GlaucomaFest

Touch Associates

Santen Pharmaceutical

Consumer & Media Event of the Year

Dongfeng CITROËN Space Pop-Up

Uniplan

Dongfeng CITROËN

Manufacturing & Industrial Event of the Year

Buildbase Conference 2021

XSEM




EVENT PURPOSE CATEGORIES

EVENT

AGENCY

CLIENT

Incentive of the Year

Club Excel at Home

Strata Creative Communications




Internal Communications Event of the Year

Good Morning Poundland & Dealz and The Early Early Show with Barry Williams

Meet & Potato

Poundland & Dealz

Team Building Event of the Year

Arm Global Graduate Conference 2020

Brands at Work

Arm

Celebratory Event of the Year

Arm 30 House Party

Live Union

Arm

Conference of the Year

Momentum 2021

Top Banana

The Body Shop At Home™

CREATIVE SOLUTION CATEGORIES

EVENT

AGENCY

CLIENT

Best Humanitarian Impact

FAST Heroes

CTL Communications

Boehringer Ingelheim

Best Use of Small Budget

The Learning Awards 2021

MCI

The Learning and Performance Institute

Best Sustainable Initiative

Facebook x World Economic Forum, Davos

Smyle

Facebook

SUPPLIER CATEGORIES

COMPANY

Best Venue

The Convention Centre Dublin

Best Technology Provider

CI Group

Best Events Destination

Visit Belfast

BEST OF THE BEST

COMPANY

Agency of the Year - UK

Brands At Work

Agency of the Year - Global

INVNT

Corporate Events Team of the Year

Quilter

Best MICE Team

etc.venues

Grand Prix

Live Union

A-LISTERS OF THE YEAR

NAME

COMPANY

Agency A-Lister

Floss Clifford

simplybetter

Corporate A-Lister

Laura Lucas

HS2
For more information on each of the winners visit the C&IT Awards site here.
To access please sign in.