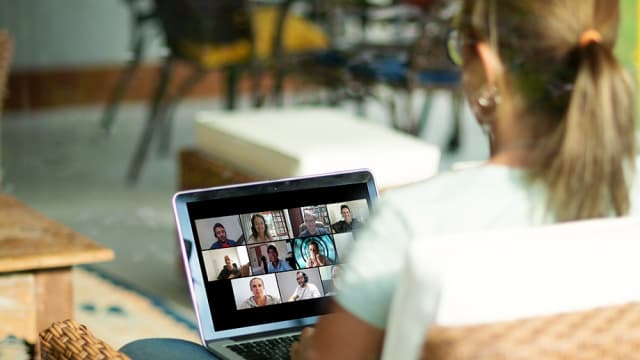 How to deliver successful virtual events
A few simple strategies can ensure your virtual events work brilliantly – and become part of your marketing stack forever
Even before the world turned upside down, you may have thought about the benefits of virtual events – cost savings, ability to scale, data capture… pandemic proof. Virtual events are, for now, the main option.
But don't view the virtual event as a quick fix, designed to plug a hole until we rediscover some shades of normal. Look at it as another channel, an effective tool to add to your total event programme. Add it to the mix of events you host and attend – and your internal events. They are not a replacement but an addition.
So, how can you best go about delivering successful virtual events? Here are some instant hints and tips – and you'll find a link to the most excellent The Ultimate Guide to Virtual Events at the end, for a deeper dive.
You've decided that you want or need to plan a virtual event. What now?
Like any event, here are four basics you've got to get right:
1) Virtual events, like in-person events, need good marketing. Without targeted, effective promotion, attendance suffers.
2) Content is king. In a virtual setting, your content IS your event. Powerful keynotes and engaging sessions tailored to your attendees are critical.
3) Alone doesn't have to mean lonely. Keep virtual attendees engaged. Offer options that are relevant to each attendee type and use online event guides.
4) Data is the only way to prove event success. Measuring engagement and capturing attendee data are the only way to prove event ROI and activate a buyer's journey.
The planning process is also similar: put yourself in your attendees' shoes; don't keep attendees in their seats for more than two hours at a time etc.
As you plan, use your standard planning tips and tricks to create and deliver a great event. Virtual events may feel different, but the more you treat them like an in-person event, the better. Here are the questions you need to answer:
Will content be live, on-demand, or a mix?

Have you created a guide for attendees before the event that explains how to join keynotes, attend sessions, and use messaging tools?

What are your KPIs for the event? While you may focus less on leads acquired, you can build goals around session registration and feedback surveys.

What happens if you have connectivity issues?

Will you charge or offer free access?

How long will on-demand sessions be available?

How long will sessions be?

What tools will attendees have to network and schedule appointments?
Preparing attendees is crucial. When technology is involved, there is going to be user error. Virtual events are not all the same. There are many different video conferencing tools as well as event technology options.
Don't take your attendees' digital-savvy (or lack of) for granted. Before the event, it is best practice to create a guide explaining how to access the event, sessions, and more.
Even better, allow attendees to practise launching sessions or sending messages before the start. This eases attendee stress, decreases the flood of questions on day one and provides an overall better experience.
And this guide doesn't have to be stale. Will your event have a host? Ask them to record an introduction video that educates with humour and a light touch.
How do you keep them engaged?
In-person events are built for engagement. From attendees networking at happy hours to one-on-one appointments to live Q&A, these events involve the participants.
And virtual events provide a similar opportunity: keynotes can use live polling; sessions can still include live Q&A; with in-app messaging, attendees can meet virtually. Many event tech engagement tools will work.
As always, social media is a great engagement tool. Using an event hashtag and encouraging attendees to post pictures of takeaways from the day, office setups and more, makes delegates feel part of a community.
But how do you really network?
With a virtual event, just because attendees can't shake hands doesn't mean there isn't an opportunity to network. A mobile event app, whether used on the phone or in a web browser, can connect attendees and provide a messaging system.
Once attendees connect, they can schedule one-on-one appointments, exhibitors or sponsors. Provide dedicated networking time to encourage meetings.
Using registration data, link attendees with similar interests and set up group chats and breakouts. Then sort networking through video calls, chat groups, and appointments.
Data, data everywhere… The data available varies from in-person to virtual events. Data is still gathered before, during, and after the event and can be used to qualify leads, prove event success, and improve the event for the next year. And if you scale your event with on-demand promotion, you increase your data capture scope. Data captured includes:
number of registrations

demographic info

session registration

email open and CTRs

post-event survey results

number of leads

buying interest

session ratings

session feedback

social media engagement and reach
How do you prove success?
Virtual event success depends on aligning event and business goals, identifying key performance indicators to define event success before the event, analysing event data and reviewing insights afterwards.
Proving event ROI requires an analysis of costs and benefits. Costs are expressed as direct costs, indirect expenses and opportunity costs. Benefits refer to direct revenue, attributed revenue, attributed sales pipeline, brand equity and knowledge exchange.
By using the data gathered during virtual events to weigh costs versus benefits, you can prove its success. Articulate your success metrics before the start. After, take time to understand if it was successful based on metrics and how you'd improve.
For more information and help on virtual events, see Cvent's eBook, The Ultimate Guide to Virtual Events.